HERE ARE SOME LINKS & THINGS FOR COSMETIC RADIO PARTS.
RADIO LENSES:

We have reproduced these extremely high quality lenses from original factory specifications.
1941 Cadillac (both front and back lenses)
1942-47 MOPAR 802 (Chrysler, Plymouth, Dodge, Desoto)
1948 Studebaker
1962 Oldsmobile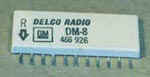 We have also engineered exact replacements for the no longer available DM 8 and DM 28 modules. They are manufactured using highest quality computer grade components and state of the art surface mount technology.
Our inventory includes other reproductions as well as many n.o.s. speakers and parts. For more information and help, just ask us.

KNOBS, DIALS, BEZELS, & BUTTONS:


Reproductions for Chevrolet and GMC.
www.fillingstation.com



Ford Reproduction parts for:
1932-1948 Passenger Cars
1932-1966 Pickups
www.bobdrake.com



Original and reproduction parts for Ford Motor Company.
www.dennis-carpenter.com



Yesterday's Radio
Packard reproductions from original specifications.
www.yesterdaysradio.com


Scott Young Restoration
Restorations and reproductions of automotive radio lenses.

Scott Young
332 Devon Drive
San Rafael, CA 94903-3755
(415) 472-5126
TUBES & VIBRATORS:


Vacuum tubes and vibrators.
www.tubesandmore.com
About Us Services Restoration Process Contact Info Shipping Info Links