When you are ready to send your radio, here are a few things to help ensure it arrives safely.
Be certain to pack the radio and its associated components--including speaker(s), power supply, external amplifiers or controls, and any interconnecting cables--in a box with at least 3 inches of packing space between any part of the radio and the container, especially near the knob shafts. We have found the best packing method is to bubble wrap the radio and peripheries, and fill the remaining space with packing peanuts.
Since the removal of most speakers requires the removal of the radio, while the radio is out, itís also a good idea to remove and include the speaker when shipping your radio. Speaker testing is included in the service, and because many radios are adjustable to enhance the performance with its particular speaker, itís always a good idea to have them tested together. You can then be certain that, upon reinstallation, both your radio and speakers will work, providing you with factory new quality sound.
As an extra precaution, you may wish to insure your radio when you ship it. Shipping Insurance is inexpensive and is well worth it.
Before closing up the box, please include the form below with your radio. It only takes a moment and helps us in servicing your radio promptly. Just click on the page below, fill it out, print it, and stuff it in the box.
Although most carriers will be able to deliver your radio, our experience has been that UPS is the most preferable.
And for ease of mind, we will notify you either by phone or email when we receive your radio.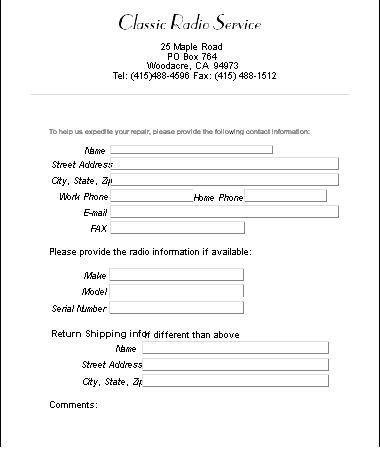 Classic Car Radio Service
"The Pride of your Car."ô
About Us Services Restoration Process Contact Info Shipping Info Links